There's something special about Cuban coffee – or café cubano. Once you taste the rich, enticing beverage, you'll know why there's such high demand for Cuban coffee in Miami – and such a passionate following. 
Coffee is an essential ingredient of Cuba's naturally social culture. Friends regularly gather at favorite coffee shops, bakeries and sidewalk cafés, sipping a cafecito and sharing conversation.
For the perfect cafecito, a ventanita (a traditional venue where Cuban coffee is served) uses a combination of traditional techniques to craft a perfect cup of coffee. 
The process is unlike any other style of coffee in America and reflects Cuba's rich culture. You can find some of the best coffee in Miami at Karla Cuban Bakery.
Cuban Coffee is Brewing at Karla Cuban Bakery
So what makes Cuban coffee so unique? Some people think it's just espresso and sweet cream, but a cafecito is much more – and less – than that. 
And at Karla Cuban Bakery, we use classic techniques for the perfect cup of Cuban coffee in Miami. It starts with beans ground fresh for each cup.
Despite its appearance, there is no cream in a cafecito. First, a small amount of our delicious espresso is combined with cane sugar to create a paste that is whipped into a thick and frothy foam, the espumita. 
Then the remainder of the hot espresso is poured over the espumita, which floats to the top. The result is an incredibly smooth and rich cup of cuban style coffee. It's twice as strong as American coffee and has a full, complete flavor and smooth, luxurious texture. 
Some ventanitas choose to use an iconic moka pot to brew their espresso. This multi-chamber device boils water in the lower chamber. The steam is pushed up through a center chamber that holds finely ground, tightly packed coffee. The steam passes through the grounds and collects in the upper chamber. "
The resulting coffee is bold, dark and strong, an ideal partner for the sweet espumita that elevates regular coffee into the signature "cafecito".
And don't be surprised if you order Cuban coffee in Miami and it is served to you in a demitasse cup. These tiny tacitas are the perfect size for the extra strong cafecito, and also reflect the historic rationing that Cubans experienced for decades.
At Karla Cuban Bakery, you can order delicious cafecito in several sizes, including the colada which is sized for sharing.
Delicious Cuban Coffee in Miami Starts with High-Quality Beans
Cuban coffee owes much of its exceptional reputation to the high caliber of the coffee beans grown on the island. For more than 300 years, Cuba has been home to a robust coffee industry. 
Farmers have taken advantage of the favorable conditions to cultivate beans that brew rich, bold and enticing coffee.
On the southeastern side of the island nation, the rugged Sierra Maestra mountains are the highest in Cuba. The red limestone soil here is fertile and rich, and the high-altitude region offers shady conditions and an ideal growing climate. 
Coffee trees flourish among the lush, organic vegetation, without chemical fertilizers – as do the cacao trees that produce Cuba's fine chocolate. Cacao and coffee beans are still hand-picked and sorted, a key element of Cuban coffee's quality.
Most coffee plants in Cuba produce the Arabica bean, with its bright and aromatic flavor. When dark roasted and very finely ground, in keeping with Cuban tradition, a cafecito from Arabica beans might also deliver notes of fruit, flowers and berries. 
Other Cuban coffee trees yield Robusta beans, which have a darker, earthy taste. 
Karla Cuban Bakery uses a variety of the highest quality beans for our Cuban coffee beverages.
Ordering a Cuban Coffee in Miami at Karla Cuban Bakery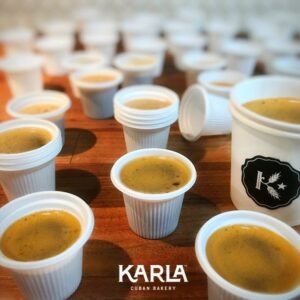 We're proud to serve authentic café cubano at all our Miami locations – plus an assortment of other delicious cuban beverages:
Café Cubano

is our classic Cuban coffee, rich and dark and sweet in the Cuban tradition. For a larger sharable size, order a

colada

. 

Café con Leche

is our rich coffee served with hot steamed milk. Café con Leche is perfect with sweet pastries or savory breakfast entrees, or it's a delightful drink on its own.

Cortadito

is a delectable marriage of our

café cubano

with slightly warmed milk. It's an indulgent treat at any time of day – strong, sweet and creamy.

Chocolate caliente

is a fun twist on Cuban coffee in Miami. The Cuban climate that is so ideal for coffee beans is a terrific environment for cacao beans too. 
That means chocolate beverages are also popular in Cuban culture. Karla Cuban Bakery's hot chocolate is thick and slightly bittersweet with a kick of cinnamon – great when you want something a little different!
A Cuban Sandwich or Pastry is Perfect with Miami's Cuban Coffee!
Coffee is a perfect companion for food, and Karla Cuban Bakery has a menu full of delicious options. In our cafés, you can find classic Cuban sandwiches with pork, ham, cheese and more on our fresh-made Cuban bread. 
Or try a signature pastry with guava, meat, cheese or coconut folded into our sweet dough. And don't forget dessert: flan, tres leches, even éclairs and meringues. Everything at Karla Cuban Bakery goes well with our mouthwatering Cuban coffee.
Looking for the Best Cuban Coffee in Miami?
Karla Cuban Bakery has multiple locations throughout the Miami area, offering delicious authentic Cuban coffee and food in neighborhoods across the city, from Miami Lakes to Tamiami and beyond. 
Visit a Karla Cuban Bakery near you for your next Miami Cuban Coffee!
If you're looking where to buy Cuban coffee blend in Miami, you can visit us in:
Also, you can follow all Cuban coffee in miami news and Karla Bakery promos on Facebook!